When a driver is behind the wheel, they should be paying attention to the road and focusing on operating their vehicle. A driver can be held liable for injuries they cause when they are distracted while driving and crash into another vehicle, bicyclist, or pedestrian because they should have been obeying the law and paying attention. If you have been injured in a distracted driving accident, then you could receive compensation for your medical expenses, lost wages, damaged car, and other financial losses.
According to the National Highway Transportation and Safety Administration (NHTSA), 3,142 people were killed in distracted driving accidents in 2019, and it was the cause of 8.7% of all crash fatalities that year. The CDC reports that 25% of the victims of distracted driving accidents are between the ages of 20 and 29. They also report that 9% of teens who are killed in motor vehicle crashes were killed in distracted driving accidents. Because distracted driving is so dangerous, 48 states and the District of Columbia have made it illegal to use a cell phone while driving.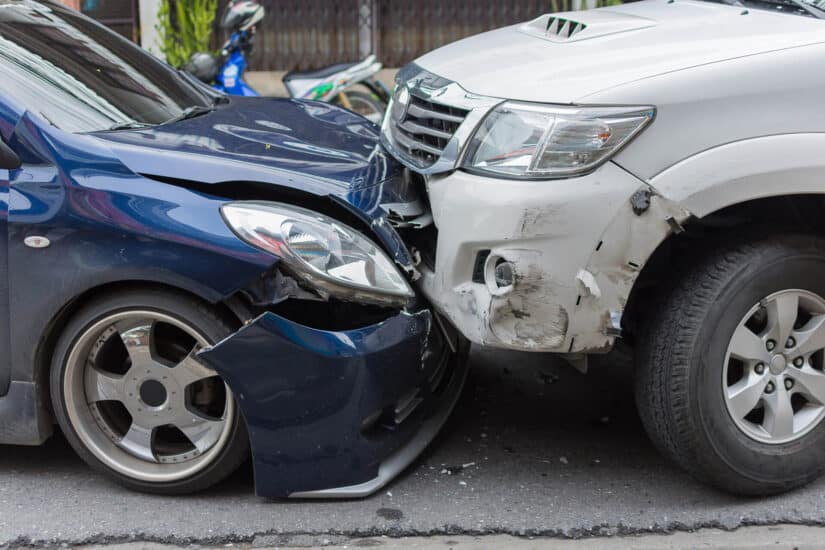 Types of Distractions While Driving
Driving distractions fall into three categories: visual, when the driver takes their eyes off of the road; manual, when the driver takes their hands off the wheel; and cognitive, which is when a driver takes their mind off of driving. Below are the most common types of distractions, and you can see how they fall into one or more of these categories:
Texting while driving
Talking to other passengers in the car
Driving with pets loose in the car or their lap
Children misbehaving in the car
Glancing at directions on a GPS or phone
Adjusting the radio or air conditioning
Eating a meal in the car, especially if it's messy and the driver is trying to avoid a stain on their clothing more than they are concentrating on the road
Drinking nonalcoholic beverages behind the wheel
Applying makeup or grooming oneself
Lighting up, smoking, or putting out a cigarette
Zoning out or daydreaming, which was responsible for 62% of all distracted driving car collisions according to the NHTSA
Driving while emotional, such as after a breakup, an argument with a partner or coworker, or after a road rage incident
How Does Distracted Driving Cause Accidents?
If you're not looking at the road while traveling anywhere between 25 to 65 mph, then there is a high chance that you will hit someone or something. If you're in a residential neighborhood or a shopping district, then a pedestrian or a biker who has the right of way could enter the road, and you may never even notice them. By the time a driver realizes the danger in front of them, it may be too late to avoid it.
Ogg, Murphy & Perkosky, P.C. believes that you shouldn't settle for less than you deserve when injured in a distracted driving accident. Distracted driving is a type of reckless driving that is against the law. When another driver has violated the law and hurt you, you should file a personal injury claim to receive compensation for your financial losses. We establish the other party's negligence and liability so that they are responsible for the damages caused by the distracted driving accident. 
When Do You Need a Distracted Driving Car Accident Lawyer?
At Ogg, Murphy & Perkosky, P.C., we build your case to prove that your injury happened due to a driver's negligence so that you either win the settlement you deserve outside of court or are awarded compensation by a judge after a trial. There are two types of compensation that can be awarded in distracted driving accidents: economic damages and non-economic damages. Economic damages are easier to quantify because they include your financial losses such as your medical expenses, lost wages, car damage, and other tangible expenses related to your injuries. Non-economic damages are generally pain and suffering and any emotional or physical turmoil caused by the accident.
The law recognizes that an injury is far more than just physical and can have lifelong effects on a person and their family or marriage. If you have been suffering from anxiety, mental anguish, or a strain on your family life due to your accident, you can receive compensation for you're suffering. Ogg, Murphy & Perkosky, P.C. cares, which is why we follow up with each of our clients throughout their recovery to ensure that they are healthy and do not need additional resources.
The attorneys for the defendant will work hard to establish that their client is not liable for the accident. If phone records are used as evidence, they will argue that the cell phone carrier cannot confirm who was using the phone at the time. They might argue that the other passengers were using the phone just before the accident. Or their attorneys will argue that while their client was texting while driving, there were other factors that caused the accident, such as inclement weather, poor signage, or even faulty car parts, and that their client shouldn't have to take full responsibility for the crash.
An experienced distracted driving attorney in Pittsburgh has seen and heard these defenses before and anticipates the other side's arguments. Don't try to represent yourself in your distracted driving accident injury case. When a distracted driver has injured you, you need a Pittsburgh car accident attorney who has the expertise and knowledge to fight for you. Call (412) 471-8500 now, and we will schedule a personalized, free consultation with you.