How Long Does Medical Malpractice Lawsuit Take?
By Ben Gobel on January 31, 2023
---
Medical malpractice lawsuits arise when hospitals or medical professionals cause harm to a patient that results in injuries and damages. Common examples of medical malpractice cases include surgical errors, misdiagnosis, failure to treat, medication errors and anesthesia errors. Your insurance company may also be responsible if they delayed a claim that resulted in worsening of a condition, injury or death.
Doctors, hospitals, and other healthcare providers take out large medical malpractice insurance policies to protect themselves from lawsuits. Insurance companies complain about the astronomically high jury verdicts or settlement costs, so they gather the best lawyers they can to fight to reduce your settlement and justify not giving you what you deserve.
Ogg, Murphy & Perkosky, P.C. stands up for victims who have suffered injuries due to a medical professional's negligence, incompetence or ethical misjudgments. We have recovered $7.2 million in medical malpractice cases for injured victims in Pennsylvania. We can protect your rights and ensure that you get a reasonable settlement.
In order to know whether or not you have a valid medical malpractice claim, you should speak to an attorney. If you have suffered a birth injury, surgical error or any other type of medical injury, then call (412) 502-5804 now to talk to a medical malpractice lawyer from Ogg, Murphy & Perkosky, P.C.
The Medical Malpractice Claim Process
Medical malpractice lawsuits arise from errors, missteps, poor judgment or criminal intent on behalf of a healthcare professional that results in patient harm or death. Given the complicated process of a medical malpractice lawsuit, you need strong legal counsel by your side who will prove the facts of your case. It is in your best interest to hire a medical malpractice lawyer.
In Pennsylvania, medical malpractice claims must be the state's civil court system within two years of discovering the medical malpractice. However, there are many advantages to filing your malpractice case sooner. Filing sooner shows the medical malpractice insurance provider that you are serious about your case.
Below is the general path that most medical malpractice claims take. However, the specific steps taken in your case may differ based on the type of medical error, so use this as a general guide.
Free Consultation at Our Law Firm
First, you should come to our office for an initial consultation. This is an opportunity for you to ask us questions and tell us about the medical negligence you suffered. Please bring your medical records, since they contain a significant amount of the evidence we need to determine if you have a valid claim. Every case is different and should be evaluated on its own merits.
If we believe that you have a valid claim for medical negligence, then we can explain to you the process of filing a medical malpractice lawsuit, what evidence you can provide to us and what our fee structure is. In the initial process of your medical malpractice case, the other party will be notified of your intention to file a lawsuit, and then both sides will start the discovery phase.
Discovery Phase
During discovery, attorneys from both sides gather facts from your medical records and other sources to build their respective cases and legal strategies. They send each other written questions, called interrogatories, that need to be responded to in writing and notarized.
Witnesses are brought in to testify. Among some of our best resources are expert witnesses, who can put their expert opinions on record. Medical experts are very useful in supporting your claims because their testimony can be admissible as evidence.
Gathering testimony from witnesses takes time. That's why having an experienced medical malpractice lawyer is helpful. Ogg, Murphy & Perkosky, P.C. have the resources to perform a thorough investigation of the medical professional in question and all other parties involved.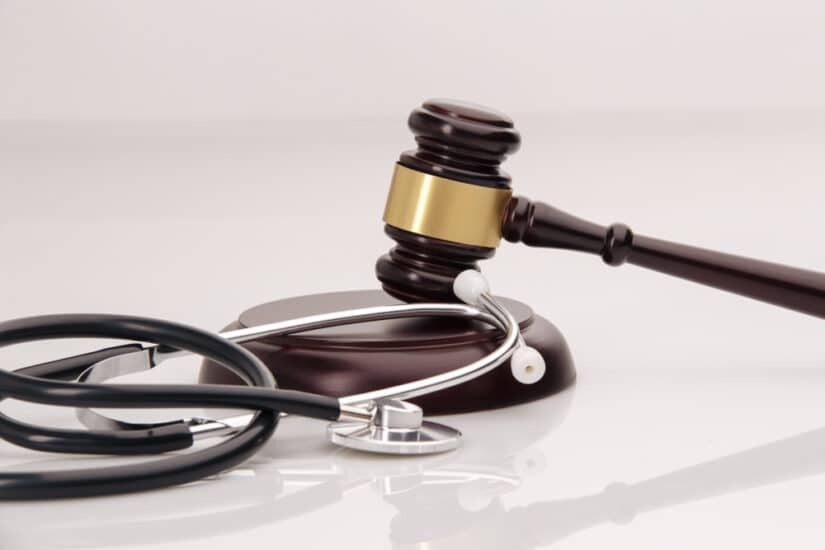 What is an Expert Witness?
It's common in medical malpractice claims to bring in a medical expert whose testimony explains to the judge and the jury how an injury occurred. Jurors in a medical malpractice lawsuit likely have no medical background, so they need someone credible to explain the evidence and how it supports the claims made in court.
There are many different types of expert witnesses, but for medical malpractice cases, they are usually medical experts and authorities in their practice area, like oncology or pediatrics. They explain medical standards and how the defendant deviated from the standard of care, resulting in your injuries.
Negotiations
After your attorney has calculated your damages, they will also engage in settlement negotiations with the attorneys for the defendant.
You do not have to accept the settlement offer made to you by the insurance company. In fact, they usually start by offering well below what you deserve. We fight for you until our settlement negotiations are successful. We will comb through all of the evidence and use all of our resources to justify what we know you deserve in compensation for your injuries.
Filing a Medical Malpractice Lawsuit
If neither side can agree on a settlement amount or the facts of the medical negligence claim, then the case can go to trial. Once the trial begins, the process includes jury selection in court, opening statements, testimony from an expert medical witness, cross-examination, closing arguments and jury deliberation.
Not all cases go to trial. We strive to settle your case so that it is not held up for years in litigation, with you waiting for a final answer. However, we are ready to stand up for you in court and provide aggressive representation at trial.
Medical Malpractice Timeline
A medical malpractice case can take as little as a few weeks or a few months, but most medical malpractice cases take two years to reach a settlement agreement. As a general rule, the more complex your lawsuit is, the longer it will take to get your medical malpractice settlement.
We can get the process started within 24 hours if you call now to schedule a free consultation at Ogg, Murphy & Perkosky, P.C. We can start on your lawsuit within a few days.
The discovery phase could last up to a whole year, with various motions being filed in court by the legal representation for both the plaintiff (usually the patient) and the defendant (a doctor or hospital).
Settlement negotiations can last weeks or months. A trial can last up to two or three years.
Receiving Your Compensation
There are two ways you can receive your settlement. If you do not anticipate needing medical care in the future for your injuries, then you can be awarded a lump sum payment by the court following your lawsuit.
If you need long-term or permanent medical care, then structured payments are better for you so you can receive your payments over time.
What Are Damages in a Medical Malpractice Case?
Medical negligence causes patients to suffer damages like medical expenses, including the cost to remedy the medical error, lost wages, future lost income, and any assistive devices or home renovations to make your house more accessible to you with your medical condition. These are economic damages since they can be calculated to an exact dollar amount.
You can also recover noneconomic damages in a medical malpractice lawsuit to compensate you for your pain and suffering, loss of enjoyment of life and emotional distress. These are harder to calculate but in general, your attorney argues that the negligence and resulting harm was such an awful experience that you have since suffered emotional distress, mental anguish, or even permanent injury, like brain injuries or nerve injuries.
Wrongful Death
Medical errors occur because of negligence, and you must prove liability to recover compensation. A wrongful death lawsuit can be a legal remedy for the surviving family members. If you are alleging negligence or wrongful death in a Pennsylvania medical malpractice case, the statute of limitations is two years.
What Can Affect Your Case's Timeline
Many people ask us how long a medical malpractice lawsuit takes, but it's a hard question to answer. Every case is different.
There are many factors that affect how long one legal case takes compared to another:
It could take a few months to gather the necessary medical records
The medical malpractice insurance provider could delay because they are aware of the wrongdoing
Your medical records may have been tampered with by the doctor's office, clinic or hospital
The history of the medical professional who treated you may or may not work in your favor
If you have suffered a birth injury, surgical error, or any other type of medical injury, then request your medical records before the office, clinic, hospital, or doctor has a chance to alter them or otherwise tamper with them. The more accurate, thorough and up-to-date your records are, the better for your case.
You should also continue to comply with any treatment you have been prescribed to address the injuries that resulted from the medical malpractice.
Pittsburgh Medical Malpractice Trial Lawyers
Call (412) 502-5804 to talk to a medical malpractice lawyer from Ogg, Murphy & Perkosky, P.C.
Our legal team fights hard for you to get the fair settlement that you deserve.